Place:
The Marlborough Hotel
Address:

331 Smith Street Map

Opened:

November 18, 1914

Architect: Original 1913 portion: James Chisholm. 1923 expansion: JHG Russell.


Background
Olympia Café, the precursor to the Olympia Hotel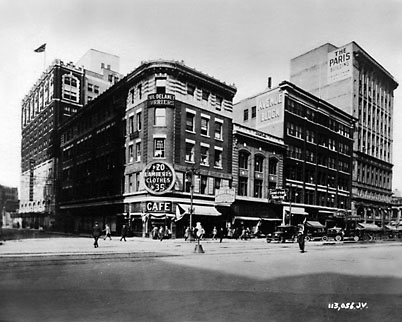 The Marlborough began as the Olympia Hotel, a three story structure built by
four Italian immigrants, Joseph Panaro, Leonardi Emma and the Badali Brothers.


The Badali's owned a fruit store at Portage and Smith and when the Kensington building was built on that site they operated the Olympia Café on the main floor of the building, (presumably that's where the name for the hotel came from).
1915, three storeys and full of troops ! Click for source

The Olympia, a luxury hotel, had the misfortune of opening on the eve of the Great War and a recession in the west. As a result, it barely lasted a year and the empty building was soon taken over by the government as a barracks to house soldiers off to the war.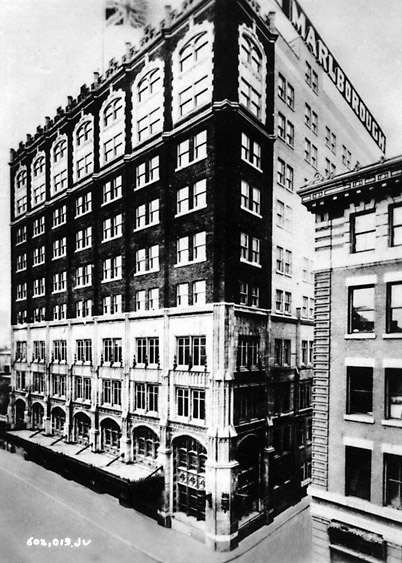 In 1920 the hotel got a new lease on life. Six storeys, which were part of the original plans, were added from 1921 to 1923 and it reopened under the name The Marlborough.

In 1960, a new wing opened on the north side which introduced the city to a new venue: the Skyview Ballroom, once a social institution in Winnipeg. The 'new' Marlborough more than doubled the capacity of the old one and it became the largest conference centre between Toronto and Vancouver. Most recently the hotel purchased the Garrick Cinema to the east, converting part into a waterslide park and the other to as a conference centre.

As with many downtown hotels, it has changed chains over the years. It was a Delta and now a Ramada.

The Winnipeg Press Club, Canada's oldest, was headquartered here for many decades. Also, in 1925, it was the site of the conference that created the Royal Canadian Legion.


Ad: July 10, 1923 WFP

Grand rooms such as Joanna's and Churchill's are still in use and well preserved and the main floor contains a number of plaques and photos from the early history of the hotel.


Related:
Our History
- Marlborough Hotel Home Page
Marlborough Hotel 95th Birthday
- West End Dumplings
331 Smith Street
- Heritage Building's Committee
331 Smith Street
- Winnipeg Building Index